About Us
Your All-Access Pass to Hotel Van Zandt
Inspired by Austin's musical roots and rich Texas history, Hotel Van Zandt is sophisticated rock-and-roll meets your favorite worn-in leather boots. Located in the heart of Austin's vibrant Rainey Street District, our luxury hotel features a collection of 319 guest rooms and suites, each adorned with musical prints and subtle nods to the city we love while creating a comfortable spot to settle in. Whether you're visiting for business or a weekend getaway, you'll enjoy all the Live Music Capital of the World has to offer. From iconic music venues and old-fashioned honky tonks to award-winning culinary, Hotel Van Zandt is your all-access pass to an authentic Austin experience.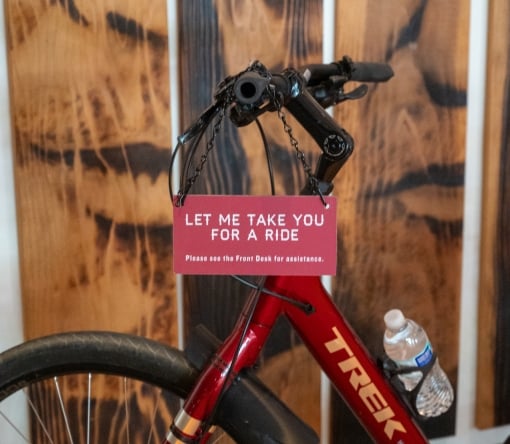 Downtown Austin Hotel
Start Exploring
Whether you're enjoying your ice-cold local, welcome brew or speeding around Lady Bird Lake on our TREK Bikes, there's so much to do (and taste!) at Hotel Van Zandt. Catch nightly music, 7-days-a-week at Geraldine's or soak in the warm rays on our rooftop pool deck.
Hotel Highlights

Amp Up Your Experience

Discover the all-star amenities that our hotel has to offer during your stay in the vibrant city of Austin. From our rooftop urban oasis, to local songwriter showcases, we've got everything you need to make your stay unforgettable.
Get in Touch
Ask Us Anything.
Want to learn more about Hotel Van Zandt? Or, just simply get in touch? Warm southern hospitality comes as second nature to us, and we love to hear from you. Send your questions, comments, or suggestions our way, and someone from our team will get in touch.
605 Davis Street, Austin TX 78701
We've Got The Answers You're Looking For
FAQ'S
General
Check-in time is at 4:00 pm and check-out time is at 11:00 am – local hotel time.
The Hotel Van Zandt is a 100% non-smoking hotel. There are no smoking rooms available at the hotel.
Whether you're plugged in or not, guests enjoy complimentary high-speed WiFi access during their stay.
Yes! In-Room Dining is available for breakfast from 7:00 am to 11:00 am and dinner is available from 5:30 pm to 9:30 pm.
Yes! Our fourth floor pool deck is an urban oasis with shaded cabanas letting you soak up the scene. Indoor and outdoor spaces blend seamlessly, so you won't miss a beat from our stage. You've got vistas of Lady Bird Lake and downtown Austin all around. At night, glowing fire elements bring a camp-firey intimacy and temperature-controlled comfort to the whole scene. It all makes for a real downtown Austin retreat.
Cabana Reservations: To reserve your Cabana please contact us via email at [email protected].
The Hotel does not have an on site spa.
Yes. A $27.95 ($32 with tax) daily guest amenity fee will be applied per room per day. This fee covers:
Upgraded Wi-Fi throughout public spaces and guestrooms for up to five devices.
Welcome beverage at check-in
$10 food and beverage credit to be used at Geraldine's, The Pool Deck or
In-Room Dining.
24-hour access to the fitness center and any wellness classes offered during your stay.
Printing services
Unlimited calls during your stay.